Digital marketing is an ever-growing field of marketing. Over the past few decades, the world has rapidly shifted from the use of televisions for entertainment to the use of mobile phones or computers for entertainment. While other forms of marketing are still up and working, digital marketing is a better alternative due to its cost-effectiveness and high reach. With digital marketing, you can reach everyone from the poorest to the richest, as in the modern world, everyone owns a smartphone.
What is digital marketing?
Digital marketing uses the internet and other digital means to promote a brand, product, or motive to reach potential consumers. The term digital marketing was first used in the year 1990, but no too long since its introduction, the form of marketing has made a huge place in the practice. As per the recent data, the field of Digital marketing is showing a more than 24% growth annually worldwide. 
The employment opportunities in digital marketing are enormous. To a lot of people, digital marketing might not seem like a conventional career, but it is. It is more than that. With digital marketing, one can work as a freelancer or under popular marketing agencies. Many non-marketing companies are also employing digital marketers for the job.
Digital marketing is done to match people's interests and increase the popularity of the brands or products. There goes in a lot of research before putting any money to work. For conducting researches and initiating various processes of digital marketing, there are digital marketing tools that make these researches a lot easier by charging a little to the hefty amount of money or sometimes for free. With the help of these tools, digital marketers achieve better results.
Digital marketing tools are classified into four categories:
Analytics Tools

: For analyzing various trends, interests, customers, and metrics for marketing.

Content tools

: For generating content ideas and deriving the amount of competition.

Social media tools

: For analyzing and generating various campaigns on social media platforms.

Email marketing tools

: For email marketing and testing the effectiveness of the campaigns.
In this article, you will be reading about the 13 best digital marketing tools that every marketer should know about, so without further ado, let's jump straight in.
Best Digital Marketing Tools 
Here is the list of the top 13 digital marketing tools. These tools are preferred and recommended by top marketers around the world. These are:
1. Ahrefs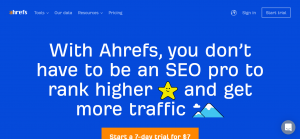 Ahrefs is one of the most popular SEO tools. Ahrefs has a massive database of keywords for over 150 countries, with 150 million for the U.S itself. Ahrefs helps in increasing the overall traffic of the website and generate new keyword and content ideas.
Ahrefs also is a great competitive analysis tool. It helps to discover the backlinks of the competitors and also finding out about the sites linking to them. In Ahrefs, there is tiered pricing of plans starting from $99 and going to $399. Ahrefs also determines various metrics about a site.
2. Survey anyplace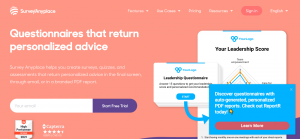 Survey anyplace is a powerful lead generation with a lot of integrations and adaptability. With Survey anyplace, you can generate and convert leads. With Survey anyplace, you can start building new leads by importing them from your various marketing tools. The tool's pricing is affordable and starts at only $33. There is a free trial available too. 
This service also offers a ReportR pack which lets the respondents obtain a personalized PDF report based on their answers. Survey anyplace also offers smooth integration via Zapier, integromat, and webhooks.
3. Proof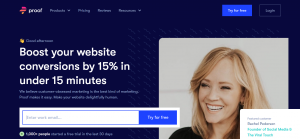 Proof is a digital marketing tool that helps in boosting the customer perception and conversions on your site by using various methods such as showing a live viewers count,  highlighting reviews, customer purchases, and videos to boost the sales. 
With proof, you can examine the whole journey and navigation of viewers on your site and optimize it to increase conversions. Proof is highly integrative and also mobile-friendly. The plans start at just $24 but have an increasing price according to the website's traffic.
4. Hubspot Marketing
Hubspot has a multiplicity of tools that cover all-around marketing needs for businesses. The tools also offer a free version with very basic features such as various types of forms and live chat software for lead capture. In the paid tier, Hubspot offers many features related to social media and email tracking. The pricing goes up to $3200 for enterprises.
5. Yoast
Yoast is one of the best content SEO plugins that help you analyze your content based on the latest google algorithm. The tools are updated every two weeks to stay up to date with any possible google algorithm changes. Yoast puts up various suggestions to improve the ranking and optimization of your content. With Yoast, you can analyze keyword placements, cornerstone content, internal linking suggestions, and readability of the content through the Flesch reading score. The Yoast plugin for WordPress is free, but the pricing increases based on the number of sites you want to be monitored. 
6. Trello
Trello is a content management and brainstorming tool that enables creators to brainstorm about the content and schedule the publications. Trello is free for small businesses and lets users appoint various cards to team members, even remotely. The plans go up to $20.83 for big enterprises. Trello eases collaboration and ensures the completability of projects.  
7. Canva Business
Canva business is one of the most popular readymade business graphics generator tools. With the Canva business, the users can create graphics for sales, social media posts, blogs,s and almost every purpose with their super easy drag and drop feature. Canva for businesses cuts the requirement of a graphic designer for the purpose of small graphics.
The users can choose from a wide range of templates to create the desired graphics. With the premium plan, users get access to a large library of images and various designing elements, which can be used to create exact visuals that you have in your mind.
8. Google AdWords
Google Adwords is one of the most excellent tools when it comes to paid advertising of your business. With Adwords, you can promote your business on google search results. You get access to google's content planner and keyword tool that lets you assign the advert to specific keywords and search engine queries. Adwords run on pay per click model, so you only pay for it when you use it.
9. Google analytics
There are hardly any digital marketers who at least once haven't used google analytics as a part of their digital marketing journey. Google Analytics is a powerful tool offered for free by google, which lets the users analyze the traffic. It lets users check the real-time traffic, an overview of it, their geographical location, their devices, and many deep metrics. With google analytics, you can also set up goals for your website.
10. Buzzsumo
Buzzsumo is a unique content research tool that helps analyze the latest trending content around the world. BuzzsumoGooglehelps you connect with top influencers and helps in producing unique pieces of fresh and evergreen content. Buzzsumo also lets you analyze the metrics and mentions along with various social platforms regarding the content ideas. Buzzsumo plans start at $79/month.
11. Mailchimp
Mail chimp is a social advertising and email marketing tool specially designed for tracking customer responses on various emails. With Mailchimp, you can also track the traffic generated from your campaigns. Mail chimp offers various integrations from SAAS companies and also powerful for drip email campaigns. There are free plans with limitations, and premium plans range up to $199. 
12. Hootsuite
Hootsuite is an enterprise-level social media management tool that is largely popular for its bulk features where you can approve a large amount of content and upload it on the cloud for your team members to see and publish. Hootsuite also allows you to schedule multiple posts at once and lets you track the ROI of your social media campaign too. The pricing starts at just $29 a month and can go up to $599 for various enterprises. 
13. Buffer
 Buffer is yet another social media management tool that lets you create, analyze, schedule, and publish your content right in front of the platform. With the buffer, you can track the performance of your post under various metrics and connect with your audience directly through the platform's integrated inbox feature. Buffer also lets you collaborate with your team and create content.
Conclusion
Digital marketing works on trial and error, you never know what the preferences and mindsets of the consumer are, these tools can help you plan out strategies, but it is always up to the creativity and understanding of the marketer on which the success of a campaign depends on. Paying for tools can help you better your strategy, but never overbuy tools. You only need one good tool for one purpose. Depending on many tools for a single purpose can create confusion and hassles since all the tools follow different algorithms and measure different metrics.